Background
The European manufacturing landscape is in urgent need of change. In 2014, manufacturing represented about 16% of the EU GDP, more than 80% of EU total exports, 80% of private Research & Development expenditure, and employed 30 million people. However, the financial crisis has heavily hit the sector, combining its negative effect with ongoing globalisation and technological innovation negative externalities. Together these factors have culminated in the loss of over 3.8 million jobs.
Reinvigorating the manufacturing sector is a complex task that requires transformation at the heart of production processes and models upon which our industrial society has been built. Inroads in generating this scale of shift in manufacturing have been made in areas conducive to open technologies in the fields of digital fabrication and craftsmanship – where the manufacturing sector has come into contact with the emerging social-technology based Maker movement, innovation and growth emerges. This drives the democratisation of production, turning manufacturing into a participatory, collaborative, and open process in which all agents share risks and benefits and, ultimately, increase the value of production.
Download presentation here.
The Project
The OpenMaker project aims to create a transformational and collaborative ecosystem that fosters collective innovations within the European manufacturing sector and drives it towards more sustainable business models, production processes, products, and governance systems.

Building on the paradigm of Open Manufacturing, the project will achieve this goal by bringing together traditional manufacturers and digital-savvy makers and engaging in the process also universities, local authorities, civil society organisations and policy-makers.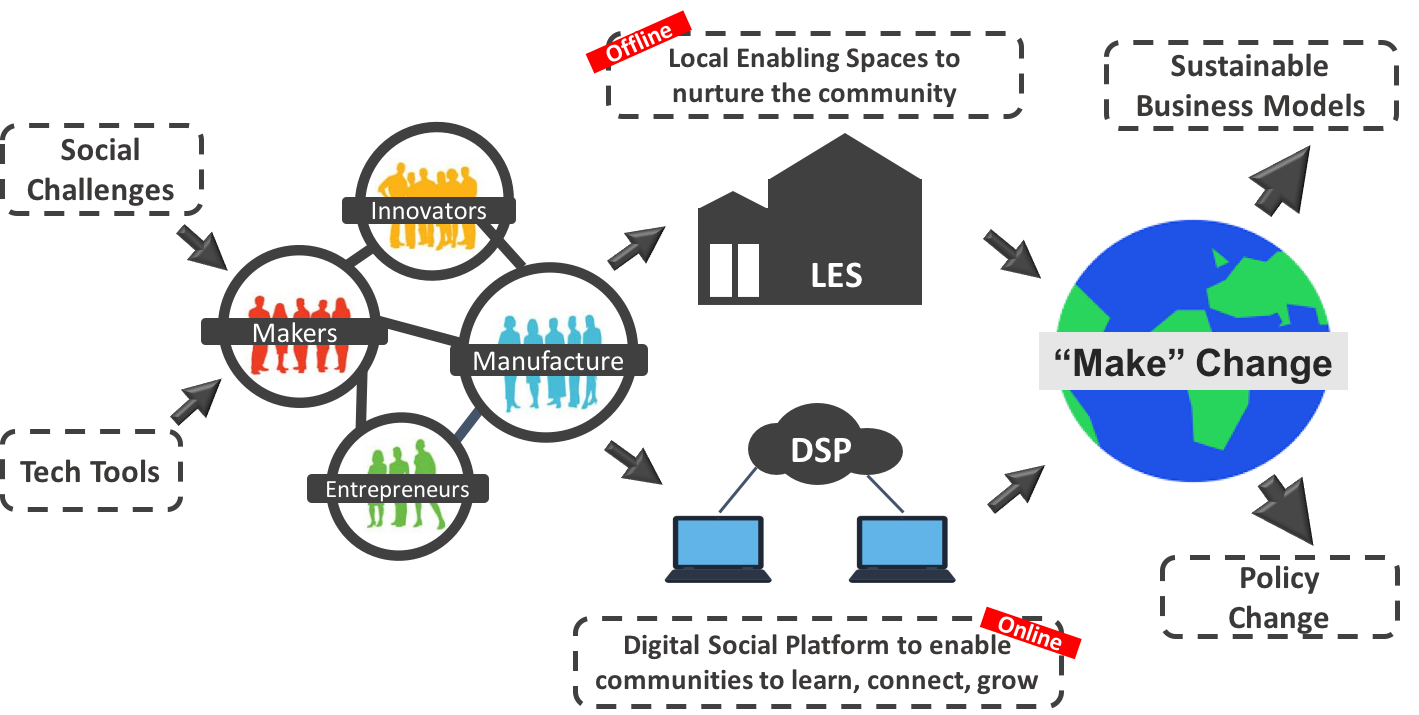 1. Enabling programme
The OpenMaker consortium is running an accelerator programme  in four European cities (Florence, Liverpool, Bratislava and Bilbao) by establishing a 'Local Enabling Space' (LES) in each city. Within each LES, the Enablers are dedicated human resources with sound community management skills. Enablers will deploy active methods for community building and engagement, primarily targeting traditional manufacturers and makers. The Enabling Programme will ensure the successful establishment of partnerships through well-planned activities such as:
Establishment and implementation of community building activities (i.e. workshops, match-making seminars, ..) within Local Enabling Spaces (LES) where makers, innovators and traditional manufacturing entrepreneurs are encouraged to work together locally
Implementation of the Piloting Support Scheme, which included an Open Call for proposal, that makes €420,000 available to fund 21 projects and provide them with mentoring and in-kind support.
2. Platform
The OpenMaker Digital Social Platform (OM-DSP) will provide OpenMaker participants with a digital environment to stay engaged (online), thereby supporting participants to better develop their social capital and increase their social impact in terms of innovation, knowledge transfer, and business success. The OM-DSP will build on members' concrete needs and values and bring them together in a community-building process, multiplying the innovation potential of each accelerator programme thanks to a novel approach to social platforms based on notions of shared values and trust-based networks.
3. Policy Change
The Consortium will write policy recommendations that promote open manufacturing across geographical and socio-economic borders. Institutional and political interest in the potential for open manufacturing will be raised by communicating and extrapolating more general conclusions to define successful strategies and digital tools to scale-up communities oriented towards social innovation in the manufacturing sector, as well as to transfer these findings to other communities, cities and industries. A first policy event was organised at the European Parliament in Brussels last year on the occasion of the Launch of the European Maker Week and in 2018 the experience will be repeated, involving even more participants from across Europe.