Startup Europe Campfire and
the European Social Innovation Competition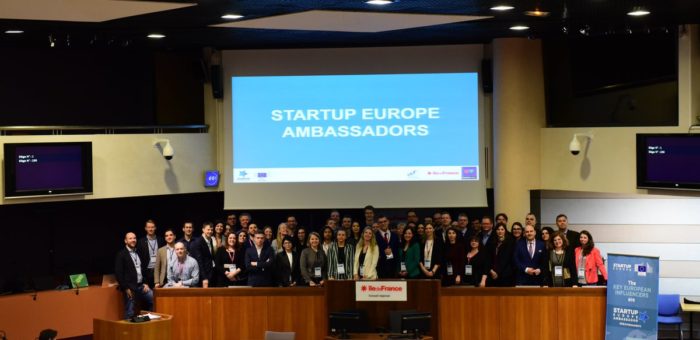 On the 19th of March, at the first Startup Europe CampFire held in Paris, OpenMaker was appointed Startup Europe Ambassador, along with other key influencers in the European startup ecosystem from 28 member countries (see full list).
The SE Ambassadors will provide information and advice about new initiatives and opportunities within the region with the objective to democratise the startup phenomenon so that every citizen has a fair chance to become a successful entrepreneur and access all the opportunities offered at European level (read our Press Release).
At the beginning of this week, the newly appointed SE Ambassadors, including OpenMaker, gathered in Paris to kick off their role as messengers for the Startup Europe initiative and individually present the efforts they make at local level to create a more inclusive and innovative Europe. Luisa De Amicis, Partner and the COO at PlusValue, attended on behalf of the OpenMaker consortium and introduced the concept, objectives and activities of our project.
The day represented a great opportunity to share ideas, confront opinions and voice local concerns with representatives of the European Commission. Building on that, the day after the SE Campfire, OpenMaker also attended the 2018 European Social Innovation Competition also organised by the European Commission. The initiative calls on social innovators across the EU and beyond to identify local challenges or advantages in order to create opportunities for young people to participate fully in the changing economy.
A new Parisian Startup utopia?
One thing that did not slip our attention was that both events, launched out of the European Commission, were held in Paris. A geographical coincidence or a move to favour the Parisian startup utopia? This has been a growing trend since 2009, when the French government created favourable conditions for new businesses establishing a company in France, by offering tax breaks and easier registration processes.
Since then, the capital of love has been hosting new entrepreneurs and exciting startup initiatives like the ones organised by the Commission in the past few days. Moreover, Station F - the biggest startup campus in the world - has settled in Paris and is effectively boosting the city's reputation among the big players of the European Startup scene. So, as London is losing part of its appeal, the question that we'll probably be asking in next few years is whether Paris will also leave Berlin behind and emerge as the new European nest for innovative entrepreneurship.