The Project
Bio-cultivator is an innovative bio-inspired balcony greenhouse for urban areas. The goal of the project is to build a fully functional product prototype to allow home-made cultivation, self-irrigation and composting. Testing will enable the team to improve the current design and identify strengths and weaknesses. The prototype should fulfil the basic function of planting and composting on a balcony.
The Partners
Maker: B4D
The company B4D (Biomimicry for Design) consists of designers, engineers, and scientists. B4D deals with the implementation of the biomimicry approach into the innovative design of the sustainable product that enables planting of bio-products in the urban areas (for full information about the team and product check the website www.bio-cultivator.com)
The history of KUBIK furniture dates back to 1948 when Ferdinand Kubík started joinery & furniture production in Rabča, Slovakia. In the new millennium, the new generation of Kubík family also came up with state-of-the-art CNC technologies, expanding the portfolio of services and expanding in the rest of Europe.
#MeetTheChampion
We are a team of skilled scientists, designers and engineers working on product that provides a solution to planting in urban areas, flats and terraces thanks to a process called Biomimicry. In a few words, we are trying to mimic principles from nature itself, by bringing together the best passive systems and smart designs.
What are the main strengths of a maker and manufacturer partnership?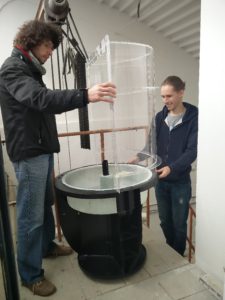 I think that finding a common goal in the partnership and being open about it from the very beginning is very important . To reconcile differences between big manufacturers, small makers or their innovators can be challenging, however this creates a more stimulating ecosystem for the partners, pushing innovation forward. Manufacturers can focus more on production processes and makers can be more focused on innovation. Their role is ultimately complementary.
Dream big! What would be the greatest achievement for your project?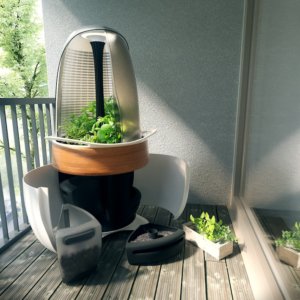 We want to make our solution accessible to a wider range of clients, even smaller ones, thus reducing environmental impact and increasing the quality of food. Also, we would like to bring more education and awareness about planting. But our greatest goal is to make people care more about nature by bringing a small piece of it to them wherever they are. So our challenge is to make the system work in almost any condition, mainly by biomimicry.
What do you hope to get out of the OpenMaker experience?
We hope to find more open-minded and innovative people willing to push the boundaries of the sector. It is very important in our research and design to be connected to a network of like-minded people and companies.